Colour is one of, if not the most important aspects of interior design. It can dictate the way that your space feels, it can make a home warm, eccentric and welcoming; cool, calming and stylish and everything in-between.
Every homeowner has their own preference and want's to put their own stamp on their home, however trying to achieve your desired "feel" without a firm understanding of how colour palettes work is a bit like painting blind - you might get the desired combination, but it'll be much easier if you know what you're doing!
In this blog post, we'll introduce what colour palettes are based on and explore some of the prevailing ways that designers use colour palettes to achieve their desired effect.
The Colour Wheel
Although primarily considered a creative field, the colour wheel finds its origins firmly in science. In 1704, following decades of research into the theory of colour, Sir Isaac Newton published the original Colour Wheel (Pictured Below.) It's a basic version of the colour wheel which we have today based on the various colour wavelengths that Newton spent his life exploring, interestingly; Newton included musical notes to correlate with the colours used.
After this, standing firmly on the shoulders of Sir Isaac Newton, centuries of development in colour theory has prospered, influencing the way that design has developed across the planet.
Below is the typical 12 spoke colour wheel, which is THE authority on colour relationships commonly, used by graphic, interior and fashion designers alike across a spectrum of industries.
In essence, it's a visual representation of colour and can be used to define how colours work together. These are the rules that you should follow when thinking about designing your own home. Here are five ways that you can use the colour wheel.
Monochromatic Colour Palettes 
Great For: People who have a favourite colour and would like to shout about it!
Monochromatic focuses on a single colour, so it's great for expressing your passion for your favourite colour. Of course, it involves choosing various shades (darker tones) or tints (lighter tones,) so it does allow for some variation. Take a look at some examples of how this type of palette can be used in your space:
The above living room focuses on blue as the base colour - it avoids becoming an eyesore of just one colour by using different tints and shades of blue, you can see how the furniture and rug complement each other. Blue is considered a member of the "cold" side of the colour wheel and so provides a focus on style and are usually thought of as having a calming effect - perfect for anyone with a busy lifestyle looking for somewhere to unwind after a long day. 
In terms of interior design styles, a monochromatic palette is commonly found in Scandinavian design, which focuses on simplicity and home comfort. 
Complementary Colour Palettes
Great for: Those who like bold colours and a somewhat mixed offering.
A complementary colour palette is best explained through the idea that opposites attract. It involves taking a colour from one side of the wheel and the other directly opposite to create a bold, contrasted and statement feel. It is an interesting palette as it takes a colour from the "warm" side of the wheel and the other from the "cold" side, which if done correctly offers a fantastic balance that other palettes find difficult to achieve. See the below photograph for an example of how one person has used a complementary colour palette:
This bedroom uses relatively vibrant shades of each of the opposing colours on the colour wheel to create a bold looking room. As the colours are contrasting in such an extreme way, it helps the room feel fun and exciting. Complementary colour palettes are ideal for children's bedrooms. Alternatively in terms of prevalent interior design styles, an uniformed complementary palette is often found in a mid-century modern style.
Analogous Colour Palettes
Great For: Those of you who LOVE colour and ar'n't afraid to use it!
Analogous Colour Palettes find their routes in nature, they are closely related colours, sitting next to each other on the colour wheel. A real life example of analogous colour in action in nature is in the changing colour of leaves, they turn from on colour to another. With this in mind it makes sense that analogous colour palettes give a room a harmonious feel, and it is the basis of various interior design styles. It's very easy for Analogous colours to merge into one another, that's why positioning is important in your execution of this type of palette.
The above room uses a combination of colours which are next to each other on the colour wheel to create a welcoming and inviting feel. As analogous colour schemes can combine colours from any point on the colour wheel, they can create almost any feel, including warm, cold or a combination of the two to a good effect dependent on your personal preference. It's a popular type of palette in the arts and craft style of interior design.
Triad Colour Palettes
Great For: Quirky spaces which are not afraid to break the rules!
Triad, as the name suggests consists of three separate colours, which are equal distances from each other on the colour wheel. It is one of the toughest colour palettes to work with as it can often create a mismatched effect. For this reason, it is popular in the Bohemian style of interior design, which encourages embracing mismatch furniture and decorations. It can be used to create a vibrant ambience, perfect for those looking for something a little different.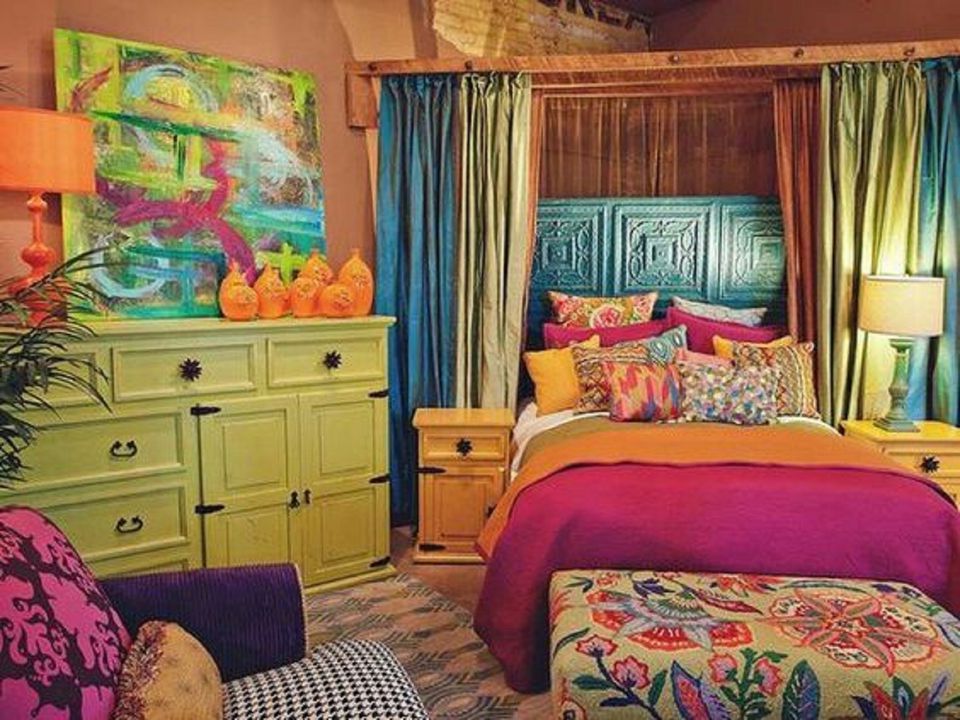 The above space is a great example of how a triad colour palette can be used. It combines three colours which rarely meet to give a bohemian feel to this room.
Neutral With A Pop Of Colour
Great For: Minimalist but striking rooms.
Neutral with a pop of colour is a palette which has become extremely popular in recent years. It excels in creating a statement whilst maintaining the order of minimalism and is popular in various styles of interior design. There are lots of ways you can use this colour scheme effectively, from painting a feature wall to choosing soft furnishings in a single colour. It's a modern palette, which can be used with any of the colours on the colour wheel... to great effect!